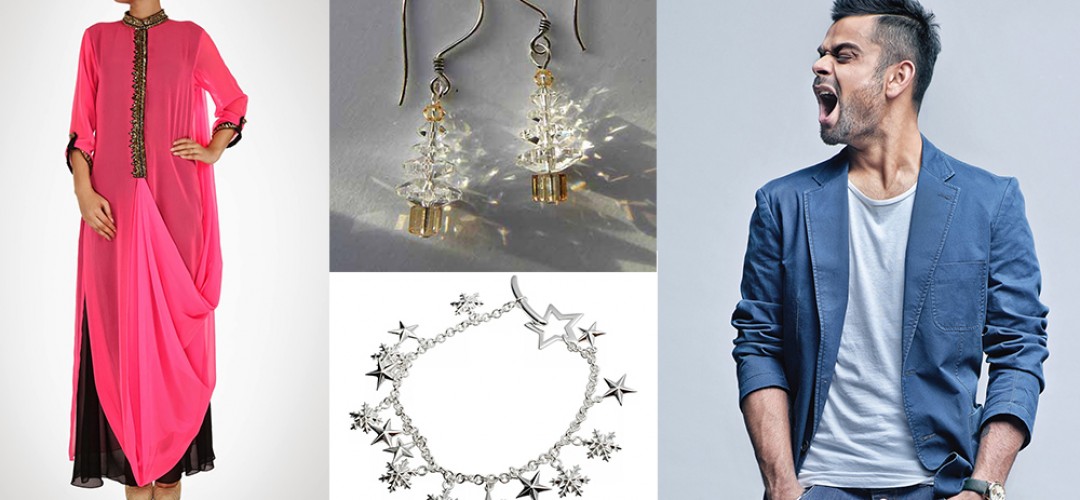 Style Aps turns Fashion guru this edition..!
Thank you to each one of you for your response. Having picked and collated a few; we hope you get most of your fashion queries solved this season. For any more queries feel free to Think Aloud & our fashion guru will solve it for you.. For now.. here goes:
Q: Richa S: What are the perfect kind of shoes to wear on a long flowy dress? Always get confused on stilletos, wedges or flats?? Would be great to have a picture reference

A: Hi Richa,


Long, flowly dresses/maxi dresses, are a great way to accentuate your femininity. If you want a more relaxed effect then flat sandals or flip flops work well. The strappy variety of sandals look pretty and stylish. Wedges can also be worn to create a taller and slightly dressy look. Just try to make sure that the dress is long enough to cover most of the wedged heel. If the dress ends above the ankle, then platforms look very chic. If you want to create an edgy ensemble, then boots can do the trick. Here are a few images to demonstrate!
Q: Tanmay Sahani: Some tips of men's fashion please – especially if U are a little short with not the best of six pack abs to show off? Would be great to know how to look good in casuals


A: Hey Tanmay,
There is always something that can be done to hide what we think our 'flaws' are and accentuate our strengths when it comes to dressing. Try to stick to smaller, vertical patterns and pay attention to proportion. Make sure the fit is just right and not too baggy or too small. If you feel you are slightly on the heftier side, accessories like skinny ties, small watches and narrow belts should be avoided.
Q: Angie S: With Christmas around the corner; & everyone wanting to wear red; how can I dress up for Christmas and yet look different & stylish ? Any styles & colors you would recommend ?


A: Hi Angie,
I guess its fun to wear red during Christmas to add to the spirit of the festival. There are so many different shades and tones of red that can be played around with to have some fun and stand out from the rest. Also accessorizing with interesting jewellery, shoes and bags can make your Christmas ensemble a conversation piece. One can also use contrasting colours like blue, green, yellow etc in their shoes n bags. If the Christmas event you are going to does not have a theme colour then any of the other jewel tones can be used to dress up. Adding sparkle to your outfit can create a fun look too.
Q: Manjiri: I am getting ready for a prom night & I have several questions when going for proms or anything that requires me to be in a gown.. I am wheatish, short & stout – kindly suggest cuts, colors & patterns for me please
A: Dear Manjiri,
Prom night is always a special night and one must try to look her best to remember it in the years to come! Since you are wheatish, warm colours like yellow, rust, orange, red and gold will work well with your complexion. Darker shades of these hues will create a slimmer and taller feel. Black and white along with neutrals will look clean and understated, if that's the feel you are going for. For your body type, v-necklines will flatter and so will halters (if you are not too heavy on the chest). Keep the dress straight and flowly but not billowing. Keep the patters soft and small if you want to try prints. Look for vertical lines and patters.
Q: Shantanu Desai: Hi Style Aps- need to gift my wife an outfit for New Year- Plz suggest what's the best one? She wears both Indian & Western & we have a party at a club followed by a house party & I've promised her an attire since it also coincides with her birthday – much thanks!
A: Hi Shantanu,
If she wears both Indian and Western, why don't you put two together and get her something we refer to as 'fusion'. This is a fun and chic way of combining two different trends/ styles to create an interesting outfit. Here are a few examples for you.

Image credits:
blogspot.com
boldsky.com
fashionlady.in
indianroots.com
m5paperblog.com
bluestreakbeads.co.uk
thesun.co.uk
timeinc.net
raindropsofsaphire.com
ako.pinimg.com
gqindia.com
oikonomos.eu