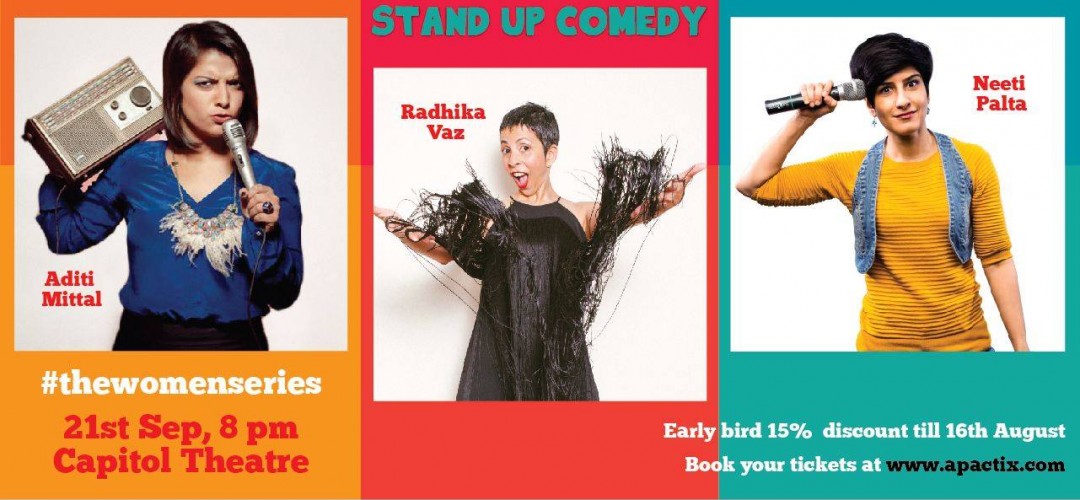 Get ready to laugh your pants off with THE MissDEMEANORS !!
THE BEST OF FEMALE STAND UP COMEDY FROM INDIA
Featuring Aditi Mittal, Neeti Palta and Radhika Vaz
A brand new show and concept bringing together the leading ladies of female stand up comedy from India to Singapore.
For tickets: http://www.apactix.com/events/detail/the-missdemeanors?
---
ADITI MITTAL:
One of the first women to do stand-up comedy in India, Aditi has been rated amongst India's top 10 stand-up comedians by The Times of India. She is featured in CNNIBN.com as top 30 witty, intelligent and incredibly funny Indian women to follow on Twitter and has written columns and articles in Grazia Men magazine, DNA, Firstpost.com and others.
She was one of the first 5 Indians to be featured in an Indians only stand-up show 'Local Heroes', by the U.K based "The Comedy Store." She has performed at venues and humor festivals across the country, clubs in UK and at Laugh Factory, Los Angeles. She has appeared on CNN-IBN's Phenking News with Cyrus Broacha, and is a staple on political satire show, Jay Hind. She was one of the founding members of the Ghanta Awards and the Filmfail Awards, two of the biggest parody award shows in India. She has featured in Ripping the Decade with Vir Das, Fools Gold Awards on Comedy Central India and Bollywood OMG.
Mittal's material has been described as "acerbic and cutting edge". Her jokes cover everything from Osadlers to Miss India winners.

NEETI PALTA:
Neeti brings to the English stand up comedy scene in India what it sorely lacks – a female perspective on a variety of subjects from the life of a woman in India, Indian idiosyncrasies, to daily irritants, current affairs, etc, while indulging in a spot of poking fun at men (ok, a lot of that!). She was voted as the best Stand Up Comic at the Oz Fest and was India's first Stand Up to perform at Melbourne for the prestigious Melbourne Comedy Festival 2013.
Neeti has done shows for varied audiences and corporates across India. Neeti comes from a writing background in advertising and TV and was also the Head Writer for Sesame Street USA's Indian venture, Galli Galli Sim Sim. She wrote her first film screenplay for 'O Teri' . Neeti also established one of Delhi's oldest and most successful comedy outfits – Loony Goons – where she organizes shows for corporates, pubs and private parties. It's a pioneer outfit that flies in the best comedians from across India.

RADHIKA VAZ:
Comedian. Filmmaker. Author.
Radhika is one of India's most well recognized stand-up comedians. Her one-woman comedy specials 'Unladylike' and 'Older. Angrier. Hairier.' have sold-out in New York, Los Angeles, Dubai, Sri Lanka and all major Indian cities.
Her edgy web-series 'Shugs & Fats' won the prestigious Gotham Independent Film Awards in New York and was featured at the Tribeca Film Festival, IFP Filmweek, Tacoma Film Festival and Miami Film Festival. She was one of Filmmaker Magazines '25 New Faces of Independent Film'.
She also wrote a book 'Unladylike, A Memoir' and writes a bi-weekly column in the Times of India.