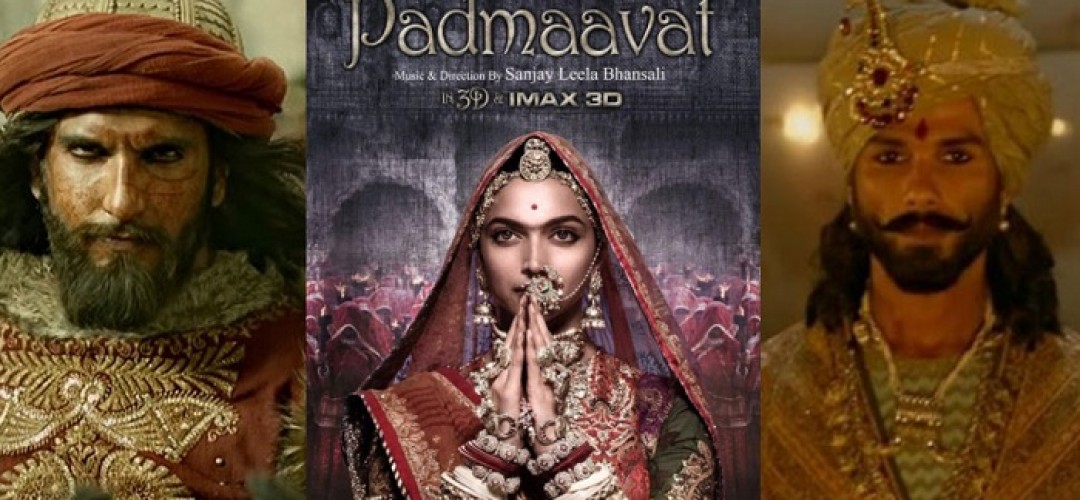 <PADMAAVAT> Reviewed and HOW?? :):)
Spoiler alert.
Disclaimer: This post will have multiple disclaimers because the number of disclaimers this film had to umm, disclaim, was more than the number of pages you click on documents before buying SIPs.
Disclaimer: This review is not serious in nature.
So of course we begin with #SanjayLeelaBhansali's swan logo and #Black music in background, and just when I am about to think it will start with something beautiful, it has #RazaMurad eating meat and snoring and then comes an ostrich and #RanveerSingh– sometimes the ostrich is as tall as Ranveer, sometimes, Ranveer is shorter, but chalo theek hai! As long as Ranveer was not wearing a lungi made from ostrich skin and holding a GQ style award! And then #AditiRaoHyadri swipes right and it's a match on #Tinder but little does she know, he toh has kept notifications on, even on their wedding night! She deletes account! And decides to come back in the film much later. Because now we are going to Sri Lanka!
#ShahidKapoor books himself a #makemytrip trip to Sri Lanka and on his things to do list is Salman Bhai's second fave hobby- hunting deer, that #DeepikaPadukone is also chasing- but behen ji ends up shooting arrows onto Shahid, who passes out in her arms. Bach gayi, warna deer ko lagg jata, aur black buck case mein fass jaati!
Anyway, right now, she comes with meditative bowls in a beautiful cave, which could pass off as some yoga retreat, where he is healing with Vicco turmeric patches and she pours water in his mouth and then drinks it herself. And then he proposes marriage to her! This could be a Bisleri ad! Ek boond Ishq, anyone?
And just like #BajiraoMastaani, Deepika becomes a plus one traveler economy class ticket, vegetarian meal included to a kingdom that has an already exisiting queen, that is not really expecting her! They are like- Aila! What is with Deepika's obsession with getting married in all Bhansali's films! Issey achha #ImtiyazAli ke films mein hoti! Party girl bann ke! Hum hi miley they Rani Sa ko! But apart from a Badi Rani sa who has found knitting as a hobby from #Pintrest, everyone is showing interest in Deepika who is expected to look pretty, light jhoomar and dance ghoomar! And of course, one creepy kumar pandit ji who is thrown out of the kingdom goes and becomes allies with Ranveer!
Ranveer, who has by now become Sultanat e Hind or something wants Deepika because creepy kumar steps in water puddle and draws a lotus flower and sprinkles water on him and tells him, how pretty she is and can prove lucky for him! That's right! Like he doesn't know it, after the #Filmfare speech mein I love you Shona Babu that they do! Yawn!
Now Ranveer, who checks in on #Zomato for best red meat available and also finds a match on #Grindr In #JimSarbh, has set out to Chittor fort to get the queen. Unibravo!
Shahid is like my usool and my Rajputgiri! And trust me, this is when it gets thoda irritating! Matlab, yeh Shahid hai! Haider wala! Par abhi thoda thinking mein #IshanAwasthi bann gaya hai #TaareZameenPar wala! Usool is greater than intellegence. Once Deepika warns saying Ranveer ko #Facebook check in at Chittor palace matt karao, but wo nahi maanta and uski cuttings ho jaati hai; then she says- now YOU don't go to have a meal with that hapshi, have Maharaja Bhog with me- but he still insists… maybe there is Bhori thaal! Waapas uska kela katt jaata hai! Wo kidnap ho jaata hai! Okay, HERO kidnap ho jaata hai! And HEROINE uses her brains between her unibrow to tactfully get the hero back!
And in the middle of this, Ranver does a Tattad Tattad/ Malhaari version of this film, while in intercuts she is on her way to Delhi 6! And I think they reach well in time. No smog in Gurgaon that time, no! Aditi Rao Hyadri goes to welcome her and manages to sneak her and Shahid out and am thinking, abbey, yeh toh pehle bhi kar sakti thi! Why wait for Deepika to be in same frame as you? Tumko kaunsa #Pinga song milne wala hai is film mein? Achha ab sumdi mein go back to Chittor! No! Usmein bhi Misha ke pappa is like- nahi rani sa, Rajput ka usool! And now I am like- arey Rajput ke usool Sushant Singh ko sambhaalne do, uff tumhare usool tumhare adarsh! And am sure Deepika must be like, really man! What is wrong with this bloke! Apart from the fact that he really must be gymming and must be on a no carb, no salt diet, which is why he looks ghanaa hot, but because no source of energy reaches brain, he makes wrong decisions all the time!
Now film ka climax- because Ranveer comes back to do more #Instastories outside Chittor fort and she knows this is going to be the BIG battle because she cant do so much up and down Chittorgarh Delhi by road! Dhaaba food probably doesn't suit her… so she gets him all ready for war, you know beautifully…
Imagine if Bhansali film was to be in real life… imagine if you were to go to the gym… you would lift your foot up and your partner would tie your shoe lace with your foot in lap and you would look at him with awe and then he would do that to shoe 2 and then he would open the dabba of protein and you would hold the dabba, she would pour protein powder, while feeling misty eyed about you leaving… the wind blowing the dupatta, the hair and then she would hold out multi vitamins and offer you water and then dab the extra water with her pallu… and put nazar ka teeka with BCAA powder on you and then as you leave, she would run after you, her hair in the air, and she has held out your gym towel like a baby in both hands and audio goes- Rani Sa Vhaye Rani Sa… mhara dhola, chhola bhatura, dal baati choorma.. hey hey hey ji re, gym kathey chaliyo hiwada mein mor, thaare sim card mein naa balance, how do we talk more… hey hey ji re!!
Anyway, coming back, so she's like, I'll commit Johar no, with your permission? Because madam is hundred percent confident by now, that he will come up with some usool on the battlefield and die! And no eyebrow threading coupons for guessing if she is right about it! Shahidsa falls, again with arrows on himself! But no Vicco turmeric, so he dies and there Ranisa commits Jouhar and final chop Ranveer ki hoti hai! And Ranveer's like Chalo, GQ Style jaate hai, lehenga pehen ke, baad mein baal kaatne ka video bhi Insta pe upload karna hai!
– By Gautam H.