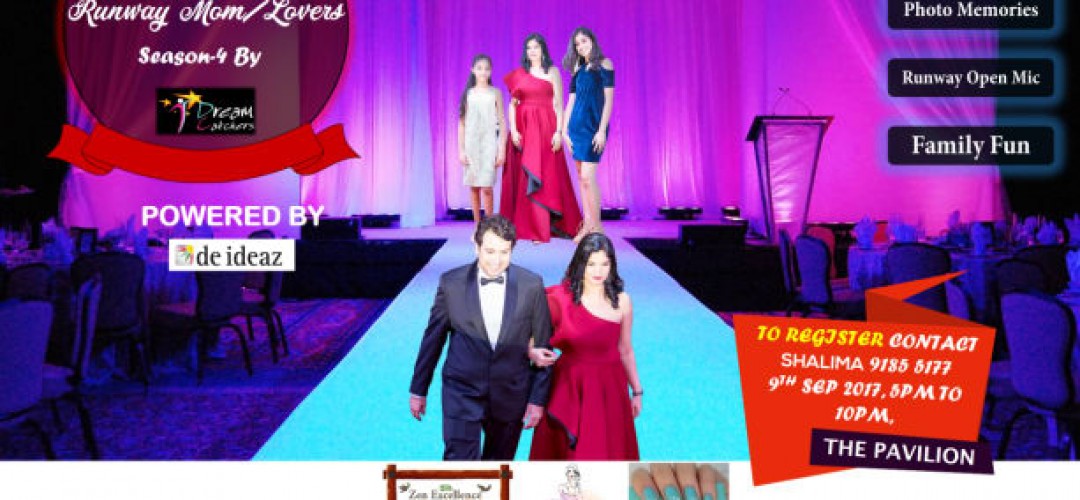 MYRA's presents RUNWAY MOM / LOVERS Season 4…!!
Hey there ladies..!
We control the remote control at home; we more or less plan the schedule and routine of the household…we also control diets..! Then how about we plan some 'Family Runway' time; that not only creates 'recreation' for the entire family…but also puts you in the spotlight…lets you share and savour your moment in the limelight; & create a 'life time of memories' for you and your family!!!
Sounds exciting right?? That is why we have RUNWAY MOM / LOVERS in its 4th season after stupendous success in the first 3!
Be a part of it (it is a non competitive platform), walk ALONE, or with ur partner or kids…whatever u plan to do…noone judges you, noone heckles you…but everyone CHEERS YOU!! It is a promising evening of FUN & FROLIC, CAMERAS, LIGHTS, DANCE, PARTY, RAMPWALK..to end with a spread of sumptuous food..! Be a part of our RUNWAY now…CALL Shalima Motial on 9185 5177
Here's an interesting list of Pre-events that will have you hooked, get you to network, make more friends …of course..the are not compulsory at all…you can choose to come if you want your experience to be even more enriching!
– Cocktails for the whole Family-19th Aug-Saturday hosted by Evente Clinic at the Holiday Inn specially for Runway Models, Certificate distribution. 5-7pm
– Kundalini Yoga/Zumba/Trust Yoga- 21st Aug-Monday , by Dansation Fitness and Kundalini Yoga by Akashakti, 9am-12 pm Gardens by the Bay under ECP bridge
– Party- 23rd Aug – Wednesday, theme "Senorita", let's just party & enjoy! 8:30pm onwards at Myra's Boat Quay
– Show us Ur Dress- 26th Aug-Saturday, we'll help you choose between your dresses if you need our help and our make up artists will decide your look this day:) 11am to 1pm at Costa Rhu
– Chalktalk at Rampwalk-30 Aug –Wednesday, Make-up workshop by Gayathri Menon, Tips from Stylist, Talk by Dr. Rumana Kaed on building the Emotional Muscle, Talk by Life Coach Taruna Agarwal, Author Candy De Launey, Stylist Sandhya Sriram & a recipe shared by Baker Manira, 5-8pm at Myra's Fort Canning
– Photo Shoot- 2nd Sept – Saturday , 9-11am Gardens by the Bay, dress code white top and blue jeans. Jewellery sponsored by MILA Creations by Sujata.
– Choreography- 7th Sept- Suntec Convention Centre, 3-6pm & 8-10pm Lavania of Dance Embassy,
– Main Event – 9th Sept -Saturday – 5-10pm at The Pavilion, Far East Square