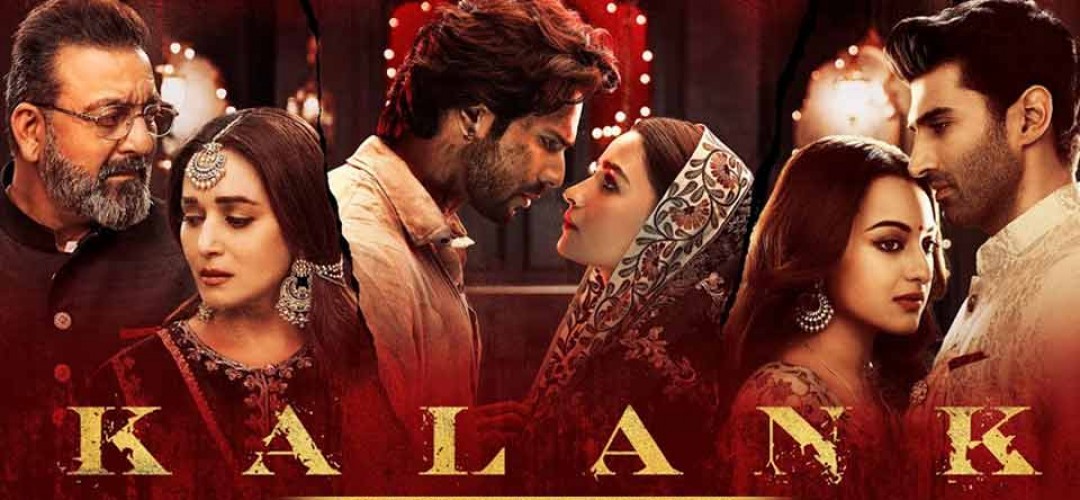 Ace Writer Gautam Hegde reviews KALANK.. !
Well, kuch picture aisi hoti hai, jinse bachne ki salaah, dikha kar nahi, bataa kar chukaaye jaati hai…
#KaranJohar has made a Watsapp group #Kalank.
Karan Johar has (already) added
#AliaBhatt
#VarunDhawan
Alia Bhatt: Wassup Varun? Looks like one more season of Koffee koming up.
#SonakshiSinha has been added to the group.
#MadhuriDixit has been added to the group.
#SanjayDutt has been added to the group.
#AdityaRoyKapoor has been added.
Kunal Roy Kapoor has been added to the group.
Karan Johar: Sorry Kunal. Toodles.
Kunal Roy Kapoor has been removed.
#KunalKhemu has been added.
#AbhishekVerman has been added. Abhishek Verman is now the admin.
Sanjay Dutt: Baba, what is this about?
Karan Johar: It's a period drama.
Alia: You mean, like PMS?
Madhuri: Ishh! Tumhari acting achhi hai, par dimaag mein namak zara kam hai…
Varun Dhawan: What is my character?
Karan Johar: You play an illegitimate child.
Sanjay Dutt: I've played that before, Bhatt saab, Naam.
Kunal Khemu: I've played that before, Bhatt saab, Zakhm.
Alia Bhatt: Aww! Daddy!
Karan: Okay, Alia, rank as per acting ability … Sanjay Dutt, Kunal Khemu, Ajay Devgn, who according to you played the best on screen illegitimate character?
Alia: O thank God, as long as you don't tell me to spell illegimitate.. illegimitititate.. ill…
Karan Johar: Okay, hush then!
Sonakshi: What is my character?
Karan Johar: Na much Sona! Its just a well dressed woman dying of cancer, huffing and panting, looking happy at a festival pooja. If you don't have time, we'll use footage from Lootera.
Sonakshi: Okay, I'll come for promotions. Toodles.
Alia: Bye Sona!
Aditya Roy Kapoor: Me?
Karan: Only if you come on Koffee and join Insta, can you do this film!
Aditya: That's just not my scene Karan!
Karan: Wait till the film happens to you! You'll say the same!
Aditya: Sorry, what?
(Karan Johar has deleted the message.)
Karan: Okay, what's the story? Wait, maybe we should first think of the grandeur and sets. Oh, I want #AditiRaoHyadri for a small part.
Varun: Arrey take #KiaraAdvani! You cant tell the difference.
Karan: Okay Varun, oh btw, there is a great action sequence!
Varun: With Baba? How can I beat up sir?
Karan: Nope, not him.
Varun: With Khemu? With Adi?
Karan: No, with a CG bull. You are a raging bull, don't we know that! Lol!
Varun: O gladiator?
Karan: Ya, he is a gladiator in Ladakh, when not in Usmanabad.
Alia: What is this reference pic of Aishwarya from Hum Dil?
Karan: That's your intro song. In Rajashtan.
Alia: Rajasthan is next to Usmanabad and Ladakh? Oh okay.
Madhuri: Where is the film based?
Karan: Overseas. As in overseas market wont see all that. Its just, everywhere, because its all about loving where you are!
Madhuri: This ref pic of Devdas?
Karan: Ya, you are Chandramukhi 2.0
Sanjay Dutt: What do I do?
Karan: Feel free Sanju sir, whenever you have the time, thoda frame mein aate jaate rehna hai. That's the conjecture I gather from Verman. Verman, tell them about the story.
Verman: Alfazon ko kahaani mein bunn raha hoon. Fasaana bataane ke kaabil hua nahi hai.
Alia: What did he say?
Verman: Nazm panno mein qaid rakha hai, par mousiqi ki talaash hai.
Varun: Kiski mausi? Karan, now you are getting some mausi also? Kangana wont spare you with nepotism remarks.
Verman: Is shaahi kahaani ko meri nazro se dekho, muqammal ek takht nazar aayega!
Karan: ooh! #Takht, nice word. Can be a title! Achha take #KirtiSanon also for some item song types.
Verman: Ishq tabaah kar deta hai, mohabbat ke sapne dekhne wali aankon mein saraab hota hai,
Sanjay Dutt: Sharaab, haan sharaab chahiye baba! Pack up ke baad!
Aditya Roy Kapoor: Ye Verman aise baat kyu kar raha hai?
Karan: Verman, kuch samajh nahi aa raha… Hindi mein bolo…
Verman: Mere hothon se dhuandhaar nikal rahi boli… boli… boli…
Alia: ….?
Varun:…?
Karan…?
Verman: Baaki sab first class hai!
Alia: Oh, I got that!
Varun: Haan ye samajh mein aaya dude!
Karan: Okay Verman, you win a hamper, chalo ab film banaate hai… I'll see you all when I get a break from India's Got Talent, and Koffee, and ads, and events, and Sonam ki shaadi… Toodles…
Sonakshi Sinha left.
Aditya left.
Kunal Khemu left.
Sanjay Dutt left.
Varun Dhawan: We also leave?
Alia: No, we are his students!
Madhuri: Tabaah ho gaye..!
– By Gautam H