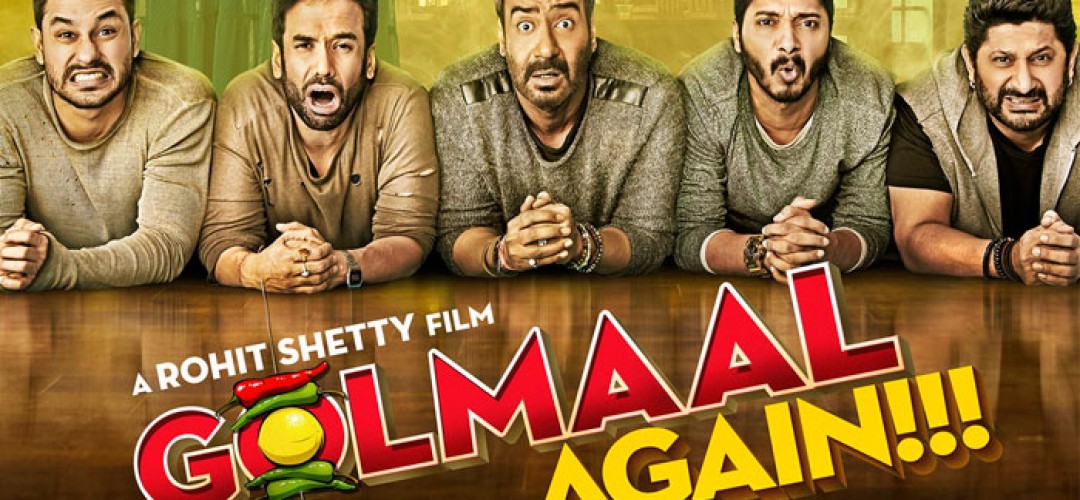 'GoLMAAL AGAIN'….totally ROCKS Again.!!!
When comedy is mixed with mild horror and served with some sizzling suspense on a plate made of thriller, a movie like 'Golmaal Again' is born. 'Rohit Shetty' might be one of those extremely brave and talented movie makers who not only is gutsy enough to combine all these genres but also to make a successful feature film out of it. Regardless of the multitude of genres, Golmaal Again has been presented just like a perfect gourmet dish wherein multiple flavours come together and enrich the experience as a whole.
In the fourth instalment, the writing of the Golmaal franchise seemed more matured as it has moved away from plain slapstick comedy into a plot-based situational comedy. Unlike its predecessors, Golmaal Again makes the viewers laugh not only by the visual portrayal or the spoken dialogues of the hallmark 'franchise characters' but it also attempts to make witty puns that make you laugh and think at the same time.
That said, the movie is not at all an intellectually burdening feature. Instead, it is one of the best stressbuster entertainment movies of 2017. If you are suffering from anything in the spectrum from mild irritability to acute nervous breakdown, I can assure you that watching this film will help you cope with your issues better, at least for that whole day.
All the previous instalments have focussed mainly on the present-day lives of the troublemakers, though this movie delves a little into the origin stories of all of them. Though the origin stories take up less than 15-20 minutes of screentime, this is the first time that we see how all of them actually came together. These origin stories not only give depth to the characters but also act as an introduction to the plotline of the whole movie. Kudos to whoever thought of such brilliant two-fold writing technique. Though the central plot circles around the origin stories of our troublemakers, the movie is made up of plenty of sub-plots and parallel plots, that ultimately form a part of the main plot towards the end, just like tributaries form part of the main river.
The usual characters were obviously present, although the show was stolen by the women power, newly introduced in this instalment – 'Tabu' and 'Parineeti Chopra'. Both these beautiful actresses have not only added aesthetic value to the feature but have also added talent-based value to it. Both Tabu (in a plain simple role) and Parineeti (in an energetic one) have performed so well that just the two of them almost outweigh the highly talented and heavily numbered male star cast of the film.
Rohit Shetty seems to have relied mostly on computer-generated special effects instead of using actual props of mass destruction. Therefore, a new aspect of his directorial talent is portrayed by means of this film. I hope to see even further experimentation and growth in this highly talented director.
Although, the best part of a 'Golmaal' movie is that even if you have not watched any of the previous instalments, you will still understand each and every aspect of the current movie. So do not wait to watch the first three parts..You can still watch the fourth one.
Just go ahead, books your tickets and get ready for laughter-filled and stressfree hours of visual satisfaction.
-By Neeraj S.K.