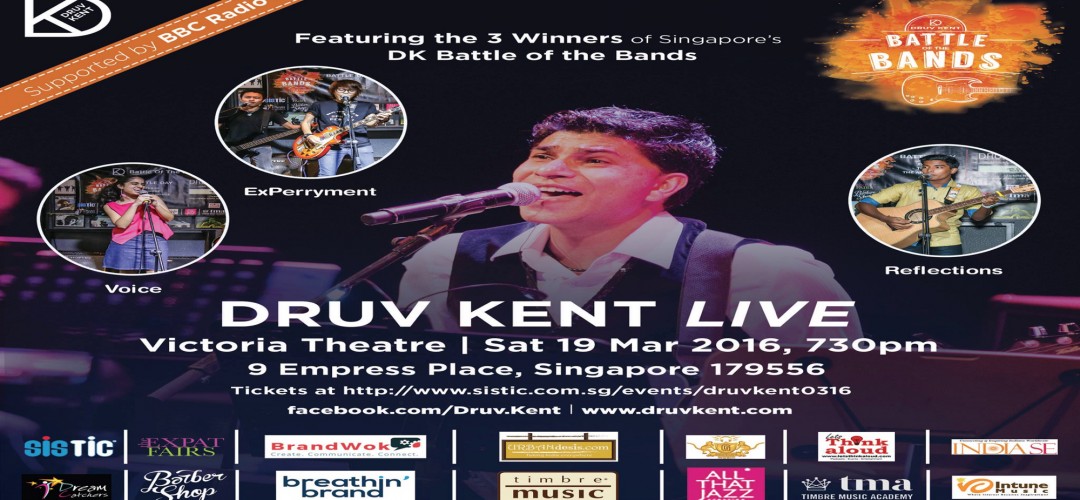 Singapore..! Watch out for Druv Kent LIVE where he mesmerises us with his music.. Not only that; the winners of the recently concluded 'Battle of The Bands' also perform at the concert..! A reckoning name on the music scene..this one is sureshot fire..!
Details Below..!
As 'DRUV KENT' puts it….
Melodies and thoughts about the lives we lead … the sacrifices we make … the love we share … and the responsibilities we bear. Some have termed the music "retro modern". Even more have called it different. Called me different. I say maybe it's about time to hear a voice from a different perspective …
His JOURNEY in his words..!
It took many years of loving music to realize my childhood dream! I worked a job most of the way. Then, in 2013, I wrote my first song. And, I was hopelessly compelled to plunge in! To make an album of music the way I wanted. Before it truly became too late. It was – and is – About Time!
DRUV KENT LIVE:
WHEN: March 19th 2016
WHERE: Victoria Theatre
TIME: 7:30 pm
TICKETS: http://www.sistic.com.sg/events/druvkent0316