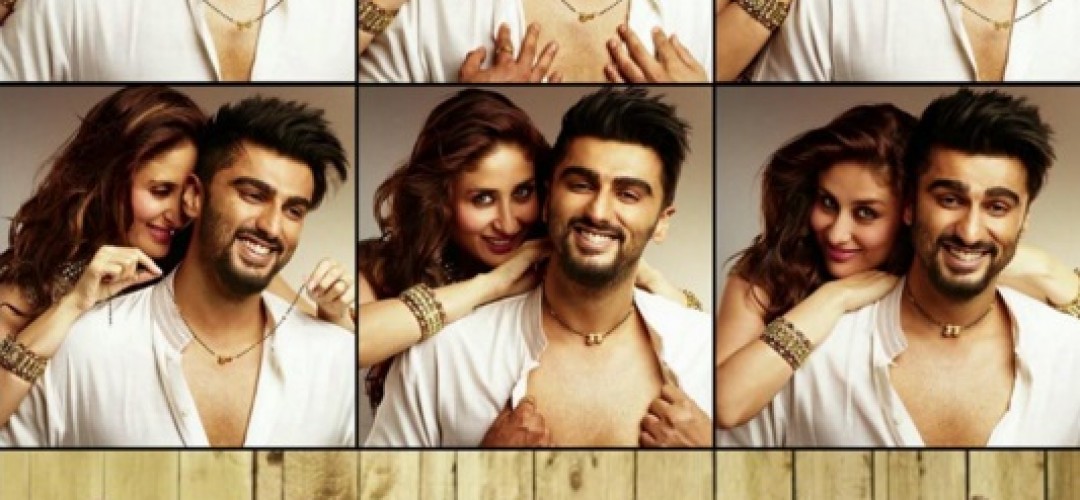 I love #KareenaKapoorKhan! I really do. Because she is stunningly gorgeous and so carefree on screen, its almost like she married the camera before she married the Nawab. The camera mattered so much, that probably that's why her eyes were wide open when she was kissing #ShahidKapoor in an MMS that went viral years ago. And sometimes she gives out the most tactless statements but still sounds endearing. Cute. Everything. But pray why does she have to do a film with a hero who is best suited for National Geographic documentaries about African elephants?
Okay, so let me not be mean to #ArjunKapoor. Because I think there is not one Arjun Kapoor, but there are two of them inside one of him. He is so big I really think he has eaten up one of the contestants on #KhatronKeKhiladi Keeda/Peeda. Let's just run a head count on those going to Endemol to collect cheques and TDS certificates. And as for his acting, there is enough room for improvement. You know what, with Arjun Kapoor, there is a big room inside of him, like so big that the room is a studio apartment, or no, maybe just a studio, Yashraj studio.
Let's talk about the film. Okay, so it starts off with a jingoistic Kareena who makes it awkward for her friend to get married at her own wedding and just walks off because she has these KI cannot be just supporting characters in KA's lives. Fair. But why stall a wedding? Specially when five scenes later you are okay with a man being that to you. So clearly, it is not equality for you. But those five scenes have the hero buy her cheap whiskey and send her bottles of Digene and Gelusil and then also compare her looks with vegetables- sliced bell pepper jaise honth, babycorn jaisi naak, spaghetti jaise baal. How about Halloween pumpkin jaise tum, Arjun Kapoor!
Anyway pumpkin asks Bebo her views on children and she says dusron ke acche lagte hain. (Somewhere in my head, #Saif frowned and #AmritaSingh said Bitch Please!) Of course #SwaroopSampat's character had to be a little forcefully 'YO' so she says sex hua ki nahi, commitment se pehle very important. YO quotient continued with pumpkin wearing the mangalsutra instead of Bebo and Bebo and he at some point said 'chaddi check', which in this film was a code for, well, sex. And then they made out.
Then the whole, okay, wife goes to work, I cook breakfast for her and her mum thing continued, scene after scene without any strong conflicts, some weak ones that just went past, like a missed sneeze. And then the plots got more bizarre. Like Arjun Kapoor, to raise money, becomes a physical trainer. HOW? Have you seen Arjun Kapoor? He was the reason Anant Ambani decided he should lose weight (and end up looking like Nita Ambani in pants) But Arjun Kapoor as a physical trainer? That's like hiring #TaherShah as a judge on Indian Idol. Or #RakhiSawant as, well, anything.
Oh, you think bizarre is over? He endorses #Safola! Really? You cut him and there could be an oil well inside. And not Safola. But Mc Donald's and Burger King wala oil. (I always think Arjun Kapoor went on the sets of #MrIndia and in that scene where the kids are starving and Seema gets Samosas and pastries for the food, the food was probably over because Arjun ate it all in the first place!)
Okay, so bizarre stuff continues with Kareena screaming in one scene where she thinks she is pregnant and hence her career, her life is over and while your jaws drop at that, pumpkin, instead of saying things like baby doesn't mean end of the world, or a mum can balance both, says things like, lets try more pregnancy tests, I would never ruin your life! Okay, then! Only glad there were no little pumpkins!
And then there is an indulgent #Amitabh #Jaya cameo, shot from inside of Jalsa/ Prateeksha, because that would be Balki's way of saying, guys, guess what, I am so close to the Bachchans! Score!! And then Jaya and Amitabh call him over for a meal and serve what looked like poha in silverware and Jaya writes a letter on a scroll for Kareena telling her how KI milna mushkil hai KA ke liye. By now I am thinking of #Aishwarya doing Jazbaa and #Abhishek doing Prestige cooker ads so I don't know what is more mushkil. Oh, I know, sitting through the film.
But guess what, I survived. And now I know, why Balki's prod house is called HOPE, with a tagline that says Hope you enjoyed the film. Not. NOT. I swear, I will wish upon someone to slip on Safola oil and let me drop a hint on who it could be! Hmm, Khatron Ke Khiladi will have to look for a new anchor this season!
#Rating: Its like a corn cheese ball. Corny, cheesy, deep fried in Safola. But so unpalatable that you want to have Digene or Gelusil after that!
– By Gautam H.