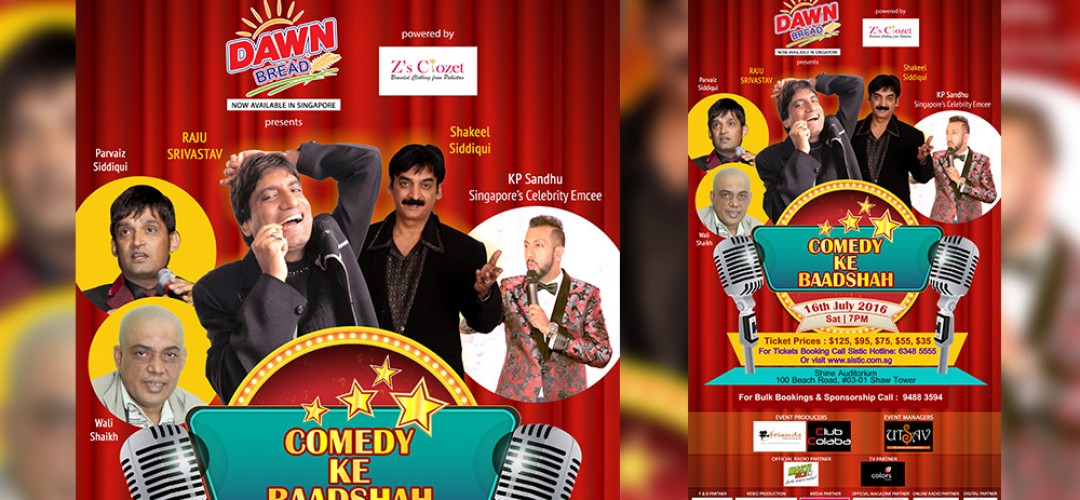 Event Date
Sat, 16 Jul 2016 7pm
Venue
SHINE Auditorium
The uncrowned Emperors of Comedy, from the Indian sub-continent hold an uproariously riotous court, for just one evening, at the luxurious and majestic Shine auditorium in the heart of Singapore. Get ready for hysterical quaking in the seats, the thunderous reverberations of roaring laughter and occasional rolling in the aisles with uncontrollable tears amidst giggles, titters and chortles. The silver tongue, one-man -insult-factory from Pakistan Shakeel Siddiqui and the rapid fire, pantomime and mimicry star from India Raju Srivastav come together to hold a lucky Singapore audience as helpless hostages of humor.
The Emperors of comedy will be accompanied on stage by the hilarious repartee and side-splitting antics of Parvez Siddiqui and Wali Shaikh.Raju Srivastav has done comedy stage shows in India and abroad. He also launched a series of his audio cassettes and video CDs. He is a familiar face around Mumbai and has done small roles in a number of Bollywood movies.
He appeared on the comedy talent show The Great Indian Laughter Challenge. He finished as second runner-up and then took part in the spin-off, The Great Indian Laughter Challenge – Champions, in which he won the title of "The King of Comedy". Srivastava was a participant on season 3 of Big Boss. He has participated in the comedy show Comedy Ka Maha Muqabla.
Shakeel Siddiqui is a Pakistani television comedian better known as 'Teeli' in Pakistan. He rose to prominence in Bollywood after appearing as a contestant in Comedy Circus. Although he didn't win, he became so popular that he was hired as a co-host in the second season of the show. He was paired to actress Urvashi Dholakia in reality show, Ustaadon Ka Ustaad (2008).
Shakeel Siddiqui also appeared as a celebrity guest in Salman Khan's reality game show, Dus Ka Dum (2008) and as a guest judge in Boogie Woogie dance competition. He was also a participant in the third season of Comedy Circus, dubbed Kaante Ki Takkar.
This Hiliriuos comedy night will be held in Shine Auditorium Singapore on 16th July 2016 from 07:00 pm onwards.This will be ticketed event and producers reserved the rights for this event.
For Sponsorship, Please contact at 94883594 or email us at friendsentertainment@ymail.com