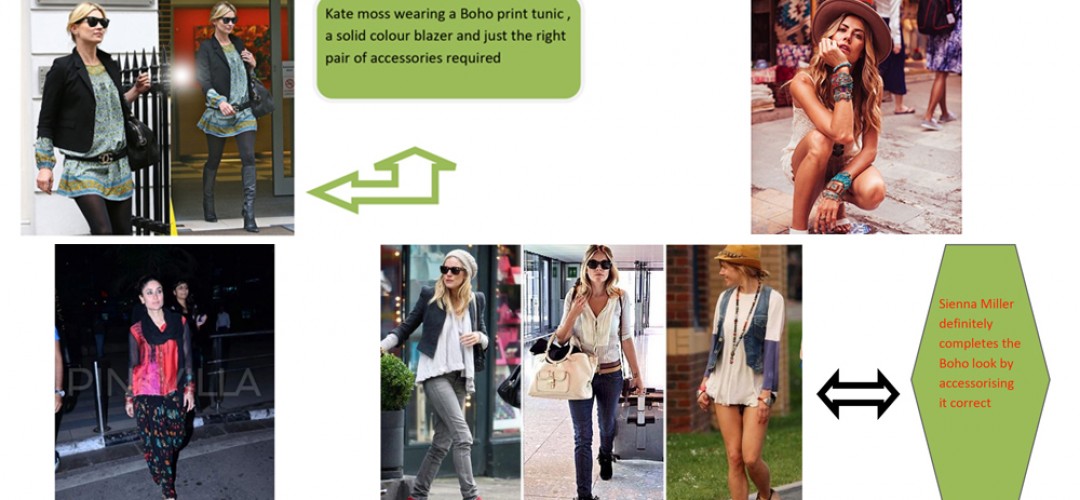 Get 'BOHO-CHIC' today..!
'Bohemian', a word that probably every fashion lover has heard… remember your friend saying "Hey girl love what u r wearing , it's very boho"!
I believe you now recollect this word; if not I will help you getting the look and have your friends tell you that.
Let's get to the real meaning of Bohemian, well in simple language it means' comfort'. Bohemian is 'freedom of movement', capturing a very ' relaxed' and 'comfort' style, it is largely inspired from the fashion of hippie's. Now the first thing that comes to mind when you say hippie is 'Zeenat Aman' in movie 'Hare Rama Hare Krishna' who created waves with her westernised hippie or boho dressing in the 70's. Her long and well fitted printed tunics , hipsters and the best accessory she wore were her glasses which were prevalent in the 70's era.
The look has just got westernised with times and today is more relevant as 'boho-chic' or hippie-chic.
Do not mistake it by a trend with a certain look to follow; it is actually following your own inspiration.
Let me introduce you to some biggest Hollywood icons who are known for their bohemian looks…
Kate moss, Chloe Sevigny, Sienna Miller and Mischa Barton. Lets give you a glance of what I think are there best Boho looks……….




In Bollywood they say that when it comes to capturing bohemian look nobody comes closer to Kakli, I do not completely agree, have always loved her free spirited dressing, so will just call her Bohi-chic, but believe she can definitely experiment and do better.
Our Bollywood stars are no less than Hollywood when it comes to style or any any dressing. Now go and get Boho, have fun 😉
Here's a quick tip for what I think can help you get that look.

These fringed flat chapals are the perfect pair of chapals to be paired with a short dress or skirt and if you like junk , then I am sure you will love the accessories I have showed on your right. These will add the spunk , the spirit to your Bohemian dressing .
Go on try the look and do not forget the Attitude!!!!