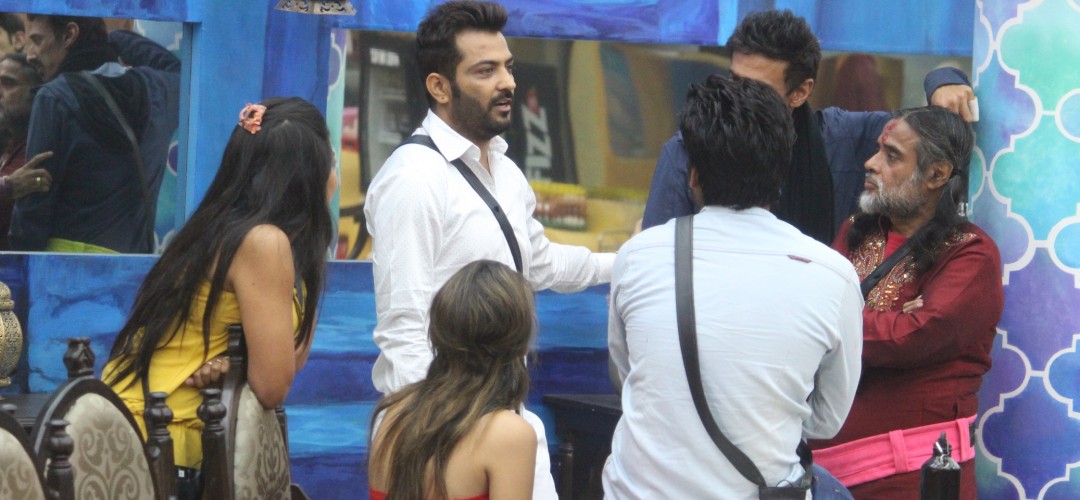 Marking the dawn of a new day, the housemates wake up to the tunes of 'Golmaal Hai Bhai Sab Golmaal Hai' preparing themselves for the next leg of the task.
While having a conversation with Priyanka, Manu tells her that in his absence, Manveer has become aMajnu because of Nitibha's influence while Mona has been missing him every second.  At the same time, inside the house, Mona appears visibly upset as she tells Lopa about Manveer making remarks at her saying- 'Ab toh Jaccuzzi mein tujhe mazaa ayega'

Later in the day, Bigg Boss announces the next situation wherein the contestants have to decide 'whether the ban on Rohan's captaincy should be lifted or not'. With Manu being in favor of Rohan, he manages to convince Priyanka to say 'Yes' to the situation. Furthermore, Bigg Boss shoots the next situation wherein 'any two contestants out of Rahul- Om Swami and Bani- Gaurav have to be tied together until further notice. As Swamiji and Rahul's name flashes on the screen, they both jump with joy and hug each other.


As the day progresses, Gaurav makes another attempt to have a conversation with Bani in the store room but she walks off. Admiring the full moon, Bani and Manveer have a conversation which finally puts a smile on her face after a long time. Soon after, Bigg Boss introduces the last and the final situation for the day that requires the contestants to nominate three contenders for captaincy out of the options– A) Manveer, Lopa & Bani. B) Gaurav, Nitibha and Mona, C) Rohan, Om Swami and Rahul. Announcing the final decision through Jio TV, Bigg Boss reveals that all this while, it was Manu and Priyanka who were remotely taking decisions for all the contestants and ruling the house through the democracy task. While the housemates are taken aback at first, they are also excited to have Manu back in the house accompanied by Priyanka.



Hoping to rekindle his 'beti' Priyanka, Om Swami tries to have a conversation with her but she pushes him back and tells him that she is not interested in talking to him anymore. On the other hand, Manu showers  Manveer, and Mona with gifts and gets them t-shirts with 'M3' inscribed on it. As the two friends reunite, Manu tells Manveer that he is going strong in the game but is getting lost and distracted sometimes because of Nitibha. As Manu tries to sort out issues between Mona and Manveer, Mona tells him that she has seen a drastic change in Manveer's behavior in his absence. As the day comes to a close, Om Swami locks himself in the jail washroom after Priyanka renounces him.
Will the game take a new turn with Manu and Priyanka re-entering the house?