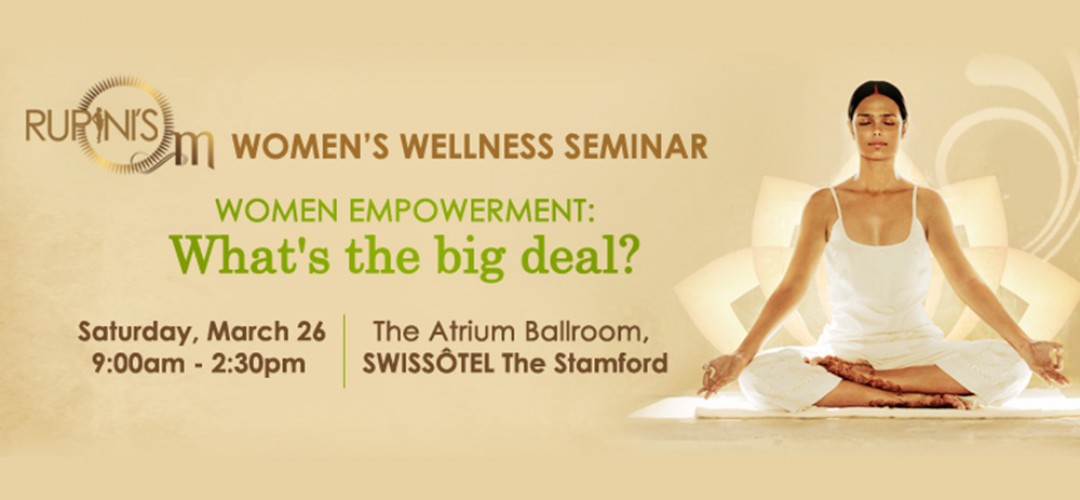 Singaporean Women Empowerment Panel: Ms. Indranee Rajah (Senior Minister of State), Bollywood actor and activist R. Madhavan and other humanitarian thought leaders.

Successful female entrepreneurs have come together to host a seminar on Women's Empowerment and Wellness to encourage stimulating discussion on socioeconomic well-being.
In conjunction with International Women's Day these entrepreneurs are aiming to answer this question by bringing together some of the leading names in the space led by Ms Indranee Rajah (Senior Minister of State)
Moderated by highly acclaimed journalist Viswa Sadasivan – the seminar styled discussion will see the speakers sharing personal experiences as they field questions from an invite-only audience chosen to represent the diverse faces of today's women at Swissôtel The Stamford this Saturday (26th March 2016) from 8.30am.
All event profits will go towards Rupini Om's community initiative: a female driven social enterprise committed to supporting, teaching and empower women by equipping them with real-world skills for both work and life from beauty services to stress management techniques.
Building on the theme of wellness and health, the afternoon is designed to inspire well-being of the participants with a stimulating panel discussion and a wellness inspired luncheon that features menu items selected to awaken and align the chakras.
The Panel Discussion

Ms Indranee Rajah read law at the National University of Singapore, and was admitted to the Singapore Bar in 1987. She began her legal career with the Singapore office of Freshfields as a legal associate before joining the Litigation department of Drew & Napier a year later. In 2003, Ms Indranee was appointed Senior Counsel by the Chief Justice of Singapore and also held the post of Deputy Head of Drew & Napier's Dispute Resolution Department, until October 2012. On 1 November 2012, Ms Indranee assumed the position of Senior Minister of State for Law and Education having previously served as Deputy Speaker of Parliament from 2006 to 2011.
R. Madhavan is a true Bollywood Star. With multiple awards – including two from the internationally acclaimed Filmfare Awards – the 45 year old counts easily counts millions in his diverse and worldwide fan base. But beyond the movies, the thespian is also celebrated for his commitment to charitable causes. This humanitarian has been voted the "cutest male vegetarian" by PETA and in his spare time is known to play golf with Bollywood royalty Amitabh Bachan.
Dr. Uma Rajan was born into a family of doctors and artists in 1940. She grew up surrounded by the arts as a child, giving her first solo public dance performance at Sri Thandayuthapani Temple in Singapore, aged six. Her combining of triple careers in healthcare, volunteerism and the arts have cemented her a place in Singapore not only in the Indian community as an accomplished dancer and arts administrator, but also nation-wide as a promoter of arts education and appreciation among Singapore's grass-roots communities. Today, she continues to advise on arts and healthcare issues in Singapore, performing duties such as Chairperson of the National Arts Council's Cultural Medallion and Young Artistes Award Selection Committee and her ongoing duties as an Independent Consultant in Healthcare and Indian Arts, Culture and Heritage.
Dr. See Hui Ti is a Medical Oncologist at Parkway Cancer Centre, Mount Elizabeth Hospital. She was previously a Consultant in Medical Oncology at the National Cancer Centre as well as a Visiting Consultant at the KK Women's and Children's Hospital specialising in adult breast and gynecologic cancers. She is registered with the General Medical Council (UK), and worked at Queen Elizabeth Hospital in Birmingham, UK, before continuing her internal medicine training at the Singapore General Hospital. She has recently obtained her fellowship from the college of physicians (FRCP) from Edinburgh.
Eunice Olsen is an Emmy nominated producer, television host, actress, accomplished pianist and an avid volunteer. Whatever role she takes on, Eunice Olsen never loses sight of who she is. In November 2004, Eunice was appointed as a Nominated Member of Parliament in Singapore, making her the youngest ever appointed at the age of 27. She was also winner of the Miss Singapore Universe contest in 2000. In 2008, Olsen was the proud recipient of the prestigious ASEAN Youth Award and was recently nominated as a Young Global Leader representing Singapore at the World Economic Forum. In addition to her entertainment work, she champions causes such as awareness on human trafficking and people with disabilities.