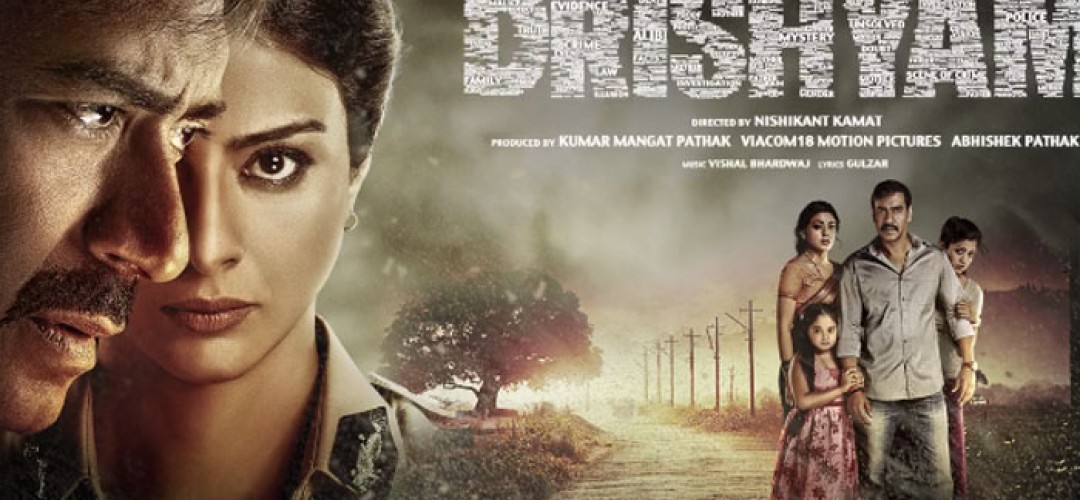 'Drishyam' is just another remake of some South Indian film; that is what many would say. I, although, beg to differ. The movie might be a remake amongst many other things, but, it is certainly not 'just a remake'. It is a movie with a gripping storyline, an airtight plot and presentation that is rare in the present Bollywood era.
This movie has many 'after a long time' events in it. It is a slowly progressing suspense thriller which is hardly seen in Bollywood today. Ajay Devgan plays a very serious character and he hardly makes you laugh which has happened after a very long time and after a long time this is a movie with no dance sequences in it.
The slow paced movie unravels slowly and steadily like an onion, one layer at a time, all the way to the end. It will keep you on the edge of your seat till the titles start to roll. With perfect seeding and mind-blowing editing, this movie is the perfect example of how extremely simple and predictable plots can be turned into the most exciting suspense thrillers of Bollywood.
Unlike any South Indian remake, this movie does not depict anything that is not believable. In fact, for a change, it shows the (alleged) real face of Police Department with no exaggeration whatsoever. The movie also shows a very real and believable face of Goa; unlike all those movies that depict Goa as an open to sky party lounge cum narcotics store cum foreigners' dating forum.
Along with no dance sequences, the movie also doesn't have any action sequences that are typical for Bollywood. All the 'action', if one may at all call it action, is extremely realistic and believable; and that is what makes your bones creep out of your body and scream for mercy when you watch these action sequences.
Even though the story restricted location options, the screenplay writer and the director have worked their way around this in such a cool way that one might not even notice the subtle placement of cinematographic excellence in the movie; as it seems like an integral part of it.
Some may say that the movie is very slow, but then that was the only way to build sufficient tension, given the plot was quite straightforward.
The acting skills of every single actor in this movie are worthy of a standing applaud. 'Sriya Saran' has performed the role of 'Nandini Salgaonkar' with such grace and perfection that no one would believe that she is a completely opposite person in real life. 'Tabu' has made a fantastic return with a character that is very unlike her previous depictions. 'Ajay Devgan' has once again proved that even though you are not a very talented actor, hard work can work real wonders for you. 'Rajat Kapoor' in a comparatively small role is quite convincing. Marathi film industry actors 'Kamlesh Sawant' and 'Yogesh Soman' have made an effective and long-lasting imprint on the Hindi film industry through this movie.
By Neeraj S.K.