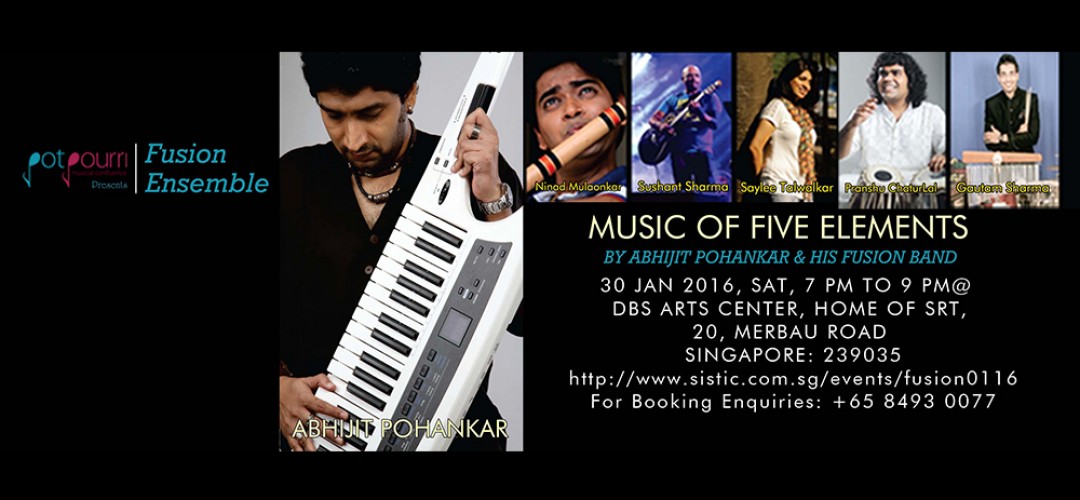 The Concert
'Fusion Ensemble' of Musical Instruments & Vocals by the iconic Abhijit Pohankar & His Fusion Band taking you through the scintillating sounds of Five Elements of Nature – Earth, Water, Air, Fire & Space.
Experience your vibes getting attuned to the distinctive notes of these elements as they resonate with your senses. The Indian Raagas and Scales presented in the Fusion style will symbolize each of the elements and evoke the energies of these elements as the music unfolds itself.
The music that results from this alliance is interesting and proves that sound has a purpose, can be visualized and can be emoted from an instrument.
The Ensemble
Abhijit Pohankar as Lead on Keyboards epitomizing the Ethereal sounds of the 'Space' Element.
Ninad Mulaonkar on the Flute illustrating the swirling sounds of 'Wind' Element.
Sayalee Talwalkar on Vocals exhibiting the Tranquil Sounds of 'Water' Element.
Sushant Sharma on Guitar symbolizing the Rustic sounds of 'Earth' Element.
Pranshu Chatur Lal on the Tabla and Gautam Sharma on Percussions embodying the playful,dramatic and adventurous sounds of 'Fire' Element.