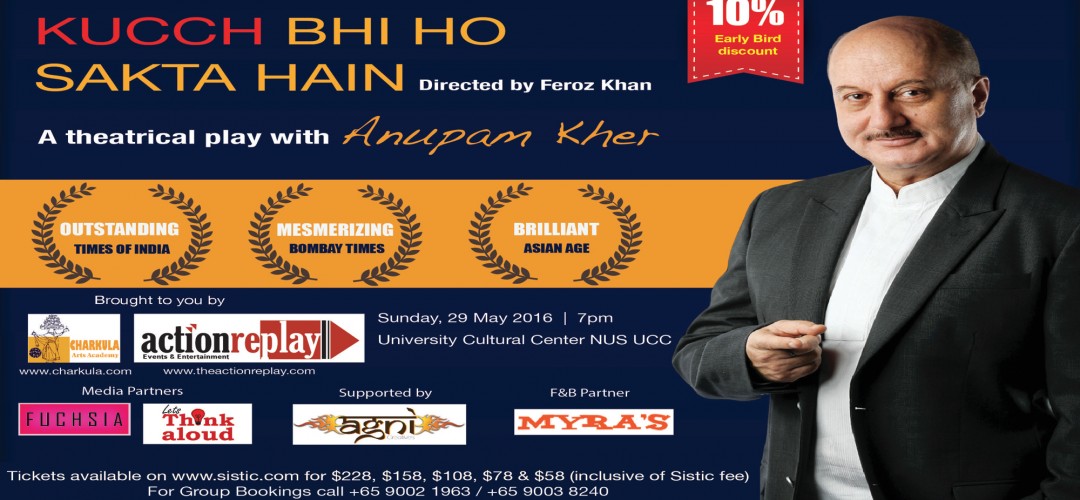 'Kucch Bhi Ho Sakhta Hai' is a journey of a man who should have been a failure, but he manipulated his destiny and forced it to make him a success.
Anupam Kher, having acted in almost 400 feature films, is perhaps the most versatile and prolific actor Indian cinema has ever seen. His repertoire includes some of the biggest blockbusters such as Hum Aapke Hai Kaun, Dilwale Dulhaniya Le Jayenge, Kuch Kuch Hota Hai, Kaho na Pyaar Hai, Kya Kehna, and Bend it like Beckham.
At the zenith of his career and crossroads of his life he pauses to reflect and share his pain, joy, tears and laughter. Anupam's struggles indeed seem like a commercial film finding some coherence by the sheer determination of the protagonist and interesting twists and turns that life provides in fits and passion.
Kucch Bhi Ho Sakta Hai is staged as a full production with Anupam narrating and dramatizing the important events in his life e.g. his first romantic encounter, his failure at the Gandhi audition, the casting in Saaransh, his personal relationships etc.
The play essentially tells the story of a small town man making it big in the Hindi film Industry, and then faltering and failing ……yet never giving up hope. Every audience will identify with him and find snatches of their lives being played on stage.
Kucch Bhi Ho Sakta Hai celebrates life and reaches out to all, with honestly and rare candour. Never before, in the history of theatre has the autobiography of an actor been dramatized on stage especially when he is still practicing his craft.
This event is promoted by Charkula Arts Academy & Action Replay.