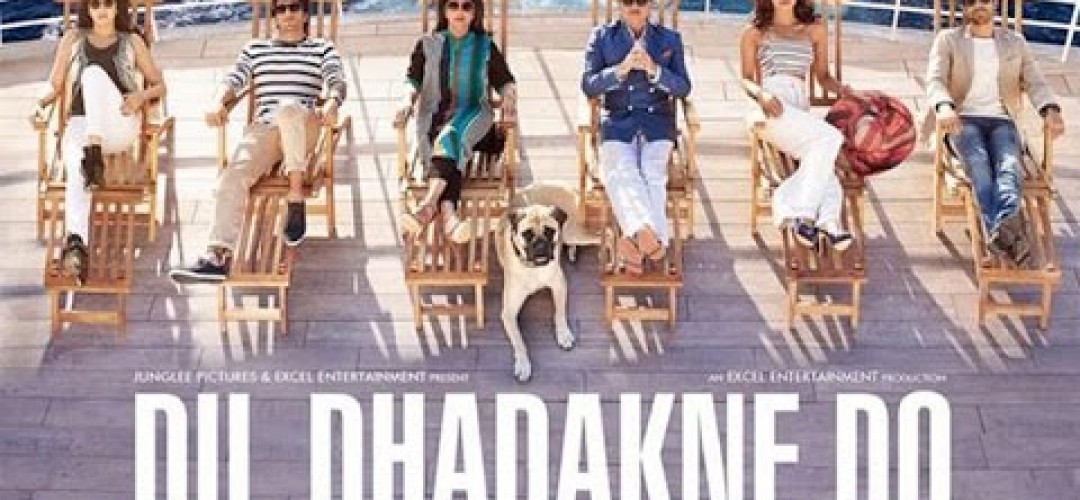 By a member of the 'Think Aloud' family…a well written, well articulated review..!
DIL DHADAKNE DO…!
Directed by 'Zoya Akhtar' 'Dil Dhakadkne Do' is a totally unusual story, about a highly dysfunctional, but filthily rich family, narrated by a dog. YES.. a dog.
Story/Script/Screenplay:

The story revolves around the 'Mehra Family' and their well concealed interpersonal issues, that they have to face and solve on a cruise booked for the marriage anniversary of 'Mr. and Mrs. Mehra'.
The writing is really unusual and totally unlike the other Zoya Akhtar Movies. This film is unusual right from its inception. As mentioned, the whole movie is mostly narrated by a dog, who is a pet of the Mehra family. It is the dog, through who, the audience gets to know the complex nature of relationships within the families.
The pace of the movie is quite weird in a very interesting manner. The pace is totally variable not just throughout the movie, but also in every single scene. Almost every scene starts at a slow and simple pace and graduates to fast and anxious; ending with a bang that is completely unexpected.
Many scenes in the movie also do not have one single set mood. Scenes that start of with a very funny situation gradually turn dark and then turn depressive, only to end with a bang of laughter provoking situational comedy.
The placement of these unusual scenes is also completely unexpected. By unexpected I do not mean unanticipated. They literally are unexpected. Not even the experimental kind of filmmakers would expect the kind of placement and order of scenes that we see in this film. The scenes not only start at an unexpected place, but they also end at unexpected situations.
Not many scenes are very long and filled with dialogues. The scenes are short and to the point with a lot of space given to the director and actors to work on with their skills.
The dialogues are neither too good nor too bad. But they compliment the screenwriting and direction very well. Though it is a comedy film, there aren't many comedy dialogues. Simple dialogues, which would otherwise become lame jokes, make you laugh due to the excellent way that they blend in with the situations. It is more of a situational comedy than a verbal comedy.
There are a lot of twists and turns and not one of them actually qualifies to be a twist. The twists are placed in such a way that it seems that what happened was nothing more than an effect of something that happened in the previous situation. Not a single twist seems to be intentionally put in there to create a sense of pseudo entertainment. Which actually makes it more entertaining.
Direction:

Direction is simply brilliant and just as unusual as the script and story. The frames are so perfectly composed that the actors get full scope of portraying their non-verbal skills. Plus the quick and short scenes written in the screenplay work great with the kind of frame composition.
Unlike usual movie making, in most of the scenes the camera is completely off the subject in the beginning, pointed at something totally unimportant; and then it slowly pans on to the subject.
This must be a rare Bollywood movie, in which extreme focus has been given to the detailing in the background and on the locations. The detailing is so well worked on that even those who usually do not look for such things would notice it.
Being a 'Zoya Akhtar' movie, there is obviously a lot of scenic beauty that gives you a feel of being on a world tour yourself during the movie.
Background Music/Songs: 

Background music is based on western style of music, which is very apt for the treatment of the film. Just like the scenes, background music is short and with a fast tempo. It adds greatly to the effect that the scene is expected to have on the audience.
The songs do not form part of the story nor do they link or connect or take the story ahead. But the music and lyrics are such that the songs, though unimportant to the scriptural aspect, add quite a lot to the entertainment value of the film.
Acting: 

'Anil Kapoor' as 'Kamal Mehra' and 'Shefali Shah' as 'Neelam Mehra' have done a wonderful job. They have played a perfect role of a couple that shows off their romance in public but almost despise each other in the privacy of their rooms.
'Priyanka Chopra', has done a great job in a character that is fundamentally opposite to the characters that she usually plays. 'Ayesha Mehra', though, a very successful businesswoman, is neglected by her own parents, looked down upon, by her in-laws; and though unhappy, she is scared and has a severe low confidence when it comes to her family. 'Priyanka' has brought alive, the character of 'Ayesha'.
'Ranveer Singh' though plays the role of 'Kabir Mehra' quite convincingly, he doesn't seem to have done anything very different with his acting, than in his other movies. Same goes with 'Anushka Sharma', who plays 'Farah Ali', 'Kabir's' newfound, one true love.
Both 'Anushka' and 'Ranveer' seem to be repetitive in their acting. Though they still fit the roles quite well.
'Rahul Bose', has given a splendid performance as 'Manav', 'Ayesha's' husband. But his role is not very big.
Though there can be not complaints with the way 'Farhan Akhtar' has played his character of 'Sunny Gill', I feel that the character had more potential, that 'Farhan' doesn't not seem to have exploited to the fullest.
The other cast in smaller roles has done a wonderful job. The actors in female characters, who had a lot of work to do with their non-verbal expressions and with their eyes, have done a very convincing job.
All in all, 'Dil Dhadakne Do' is a very entertaining movie and a once watch maybe. But if you are not much enthusiastic about the art of filmmaking, then it would not matter much if you don't watch it either.